Escoda Watercolour Brushes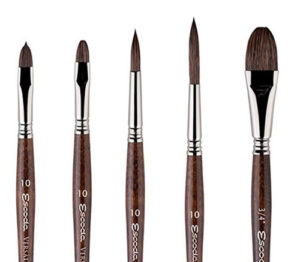 True Imitation Kolinsky – A stunning achievement by the world's best brush maker. Recent events in the brush industry have seen the rise in price of real kolinsky sable, as well as, the difficulty in acquiring it. Escoda® brush artisans recognized these issues and intensified their efforts to develop a synthetic filament that would provide a better performance than real kolinsky. The results of their efforts are astonishing.
The Escoda® Versatil Synthetic Kolinsky brush was designed with versatility as it's main feature and really lives up to it's name with exceptional snap, superior absorption and fluid retention. An amazing brush with characteristics matching those found only in real kolinsky. When using this artist brush, it really feels like using a pure kolinsky sable brush.
Escoda® Versatil Brushes are excellent for use both with watercolor, oil and acrylic. Which allows artists to create fine details, as well as, providing superior performance for coloring large areas and backgrounds.
Initial feedback from artists and collaborators has been extremely positive and all agree Versatil is an exciting new alternative available to the synthetic brush world. These brushes will exceed your expectations.
Each Escoda® Versatil brush features the synthetic Versatil fiber (simulated Kolinsky Sable) housed in a triple-crimped nickel ferrule attached to a long, luxurious sepia lacquered wooden handle with a black tip. The long handle is recommended for easel style painting.